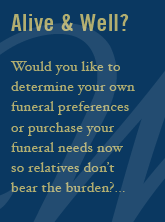 Personalization
Wilbert offers multiple ways to personalize a burial vault or urn vault with words, symbols, and images that speak of a singular spirit. Your loved one had a unique personality. The selections you make for the visitation and service should communicate that singular spirit. These choices ensure your loved one's memory is remembered for generations to come.
History of Mickelson & Ray
Archie Mickelson established his Phoenix concrete burial vault company in 1937
. His nephew, Harry Ray, joined the company after serving in World War II. In 1946, Harry and his wife Betty became partners in the company and the name was changed to Mickelson & Ray Vault Company. Soon thereafter the Rays bought out Harry's uncle.
For nearly 40 years, Betty and Harry ran Mickelson & Ray Vault Company.
Betty answered the phone taking customer's orders while Harry managed the production facility and handled the deliveries. In 2001, the
Arizona Funeral Directors Association
honored the Rays dedication to the industry with the
Lifetime Achievement Award
.
In 1983, their son, Terry Ray, bought the company when his parents retired.
In this decade
the company became the exclusive licensee of
Wilbert burial vaults
and
cremation urn products
for the
state of Arizona
and Las Vegas, NV
. In the1990's the company began manufacturing and installing precast concrete columbaria, opened a Casa Grande facility, completed its first major lawn crypt installation, and changed its name to Mickelson & Ray, Inc.
In March of 2000, the company combined its Phoenix and Casa Grande operations into a state-of-the-art administrative and manufacturing facility in Phoenix. This facility includes
10,000 sf of indoor storage for
Wilbert burial vaults
,
an advanced concrete batch plant, and a product display room/training center
. In 2001 the company added granite memorials to its product line. In 2005 the company modified its concrete batch plant in order to
provide concrete to independent ready mix providers in the Phoenix area
.
The family business is in its fourth generation as co-owner P. J. McCloskey, Terry's son-in-law, now directs the company.


2402 South 55th Avenue • Phoenix, AZ 85043 • Phone: (602) 269-1812 •
Email Us